Meet the team
We have been busily contacting potential contributors to the Academy over the past 3 months and we are delighted to say that The New Futures Academy has now got a stella cast of contributors lined up. The organisation so far consists of
An advisory group (members contributing time and expertise who will eventually contribute to aspects of the curriculum)

A board of governors, overseeing the appropriate management and development of the academy.
The skills, ideas and experience we have amongst this the advisory group are inspirational and exciting, to say the least!. Each member brings with them some existing businesses and employment links to enrich our provision. Chris Salisbury runs Wildwise, an environmental education organisation in Devon. Kanada Elizabeth Gorla runs the Catalyst Programme at Embercombe and has a training and mentoring organisation shineinchangingtimes.com. Jo Clark has recently bought Oxen Park farm in Devon for Land Based Learning programmes. Leigh Smith is managing director of Heartwood Counselling and Psychotherapy. Richard Foreshaw-Smith is an expert in marketing and promotions.
Please visit the 'About Us' page on our website for more insight into the brilliance of these people. On the Board of Governors so far we have Mike Fairclough, internationally acclaimed head teacher of West Rise Junior School in Eastbourne, Sussex (Times Education Supplement 'Primary School of the Year 2015). We also have, on the Board of Governors: Chloe Uden, Producer, Arts and Energy Lead at RegenSW, who will be bringing her considerable range of skills and expertise from working in the renewable energy sector. We are also looking to recruit more people for these roles in the near future, particularly in terms of Governors and Product Design experts. Please visit our 'Job Opportunities' section on the website for more details.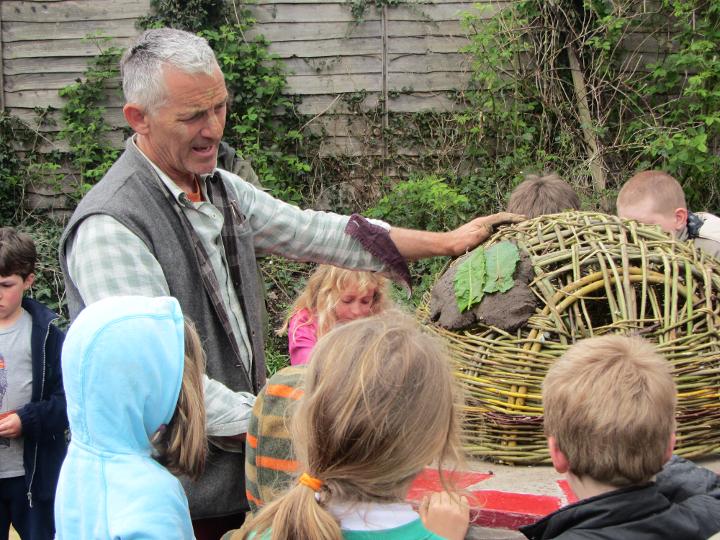 Image: Jo Clark teaching children at Embercombe